MICHAEL KORS HANDBAG!?
October 08, 2014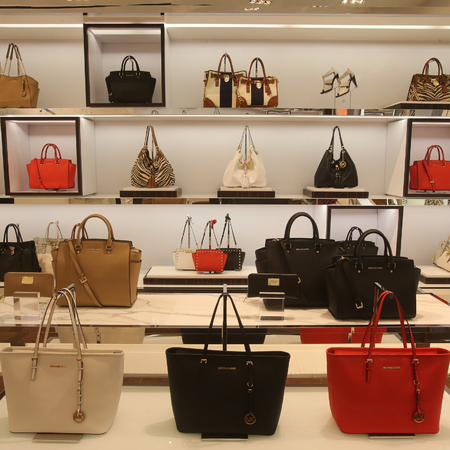 February is quite a special month for me as a whole. We've got Valentines, my birthday and its also the anniversary of me and my partner (this year it'll be 4 whole years ... wow!) As it's a big month, instead of multiple presents my partner gives me a big February present and last year he really went a bit mental and got me my amazing canon Rebel T3i.


We were discussing the other day what I would want this year and as last year was such a big present, I wasn't expecting anything huge but my partner has given me a £300 budget and mentioned about maybe getting a new decent handbag that I'd stick with and stop buying so many. My instant thought was KORS. I've wanted a Michael Kors for so long and now I'm just debating do I actually do it?! ..... These are the potential ones I would choose from - Personally for me it will be either Black or Tan in colour and I'm debating between Michael Kors Hamilton Traveller Black Large Tote Bag, Michael Kors 'Selma' Tote and the classic Michael Kors Jet Set Tote Bag Medium.
What do you think? Which would you choose from my top 5 or would you suggest a totally different bag? Would you say YES if your partner offered to buy you one? Let me know in the comments.

(Images from House of Fraser and Google)
Michael Kors 'Selma' Tote - £315.00 (I'd have to put a little towards this but shhh ...) - Gold Hardware
(Comes in Black and Tan includes a shoulder strap)
Michael Kors Jet Set Travel Double Zip Tote - £310.00 - Gold Hardware
(Comes in Black and Tan includes a shoulder strap)
Michael Kors Jet Set Tote Bag Medium - £240.00 - Gold Hardware
(Comes in Black and Tan)
Michael Kors Hamilton Grab Tote Bag - £260.00 - Gold Hardware
(Comes in various colours and includes shoulder strap)
Michael Kors Hamilton Traveller Black Large Tote Bag - £310.00 - Silver Hardware
(Comes in various colours and includes shoulder strap)